Biocide-free fouling release for optimum efficiency and a decarbonized future
PPG SIGMAGLIDE 2390 represents a real breakthrough in fouling release technology and is the latest addition to the renowned PPG SIGMAGLIDE range.
PPG SIGMAGLIDE 2390 is a durable and extremely long-lasting biocide free, fouling release coating that can help your vessels achieve instant power savings of up to 20%* with a speed loss performance of less than 1%*. It does this whilst also allowing you to profit from a considerable reduction in long term maintenance costs. By lowering vessel emissions by up to 35%*, PPG SIGMAGLIDE 2390 can make it significantly easier to meet your IMO GHG targets, EEXI and EEDI ratings, and CII compliance. Higher speed flexibility becomes effortless to maintain.
*Actual performance will depend on ship model and operating conditions.
PPG HydroReset™ Technology
Power savings with minimal loss of speed
The performance benefits of PPG SIGMAGLIDE 2390 are achieved thanks to the incorporation of PPG's HydroReset™ technology into the 100% pure silicone binder formulation.
PPG HydroReset™ is a water responsive surface technology. When immersed in water, the coating becomes non-stick, ultra smooth and virtually friction-free, preventing marine organisms from recognizing or adhering to the surface of the vessel.
Vessels coated with this advanced new technology are able to withstand up to 150 days of idle performance whilst experiencing less than 1% speed loss - a significant breakthrough in operating efficiency. Additionally, the ultra-smooth surface of PPG SIGMAGLIDE 2390, results in immediate power savings of up to 20%.
This unrivalled fouling control performance is achieved with no release of biocides into the oceans, thus safeguarding PPG's commitment to a sustainable future.
Pure Silicone Formulation
Fast return on investment and significant 10-year savings
In addition to a consistent long idle performance of up to 150 days, the stable, unfluctuating performance of the silicone binder system also has significant return on investment (ROI) benefits. Owners and operators can expect no surface deterioration of the coating on the hull, nor any leaching or surface porosity and so are able to benefit from an extended lifetime of more than 10 years with minimal maintenance requirements for their vessels.
As such, a vessel coated with PPG SIGMAGLIDE 2390 can save two complete steps of treatment at a five year redocking and can continue for another five years with no need for full blasting or application of a full top coat. This prolonged lifetime benefit has a far-reaching effect on return on investment.

Maximum carbon reduction impact for vessel owners and operators
PPG is committed to driving innovation in order to deliver products and solutions that have a beneficial impact on customers and the planet.
The PPG SIGMAGLIDE 2390 three-coat system has a high solids formulation and delivers best-in-class low VOC emissions. It is suitable for electrostatic application, which provides high transfer efficiency, leading to lower paint consumption.
The cumulative effect of the lower friction resistance delivered by the HydroReset™ technology and the minimal loss of speed that can be accomplished due to improved hull efficiency can deliver up to a 35% reduction in CO2 and support CII compliance for over 10 years. Vessels coated with PPG SIGMAGLIDE 2390 benefit from maximum speed flexibility as they can operate at an average 1 knot higher speed while remaining CII compliant.
PPG SIGMAGLIDE 2390: 10-year CII rating predictions*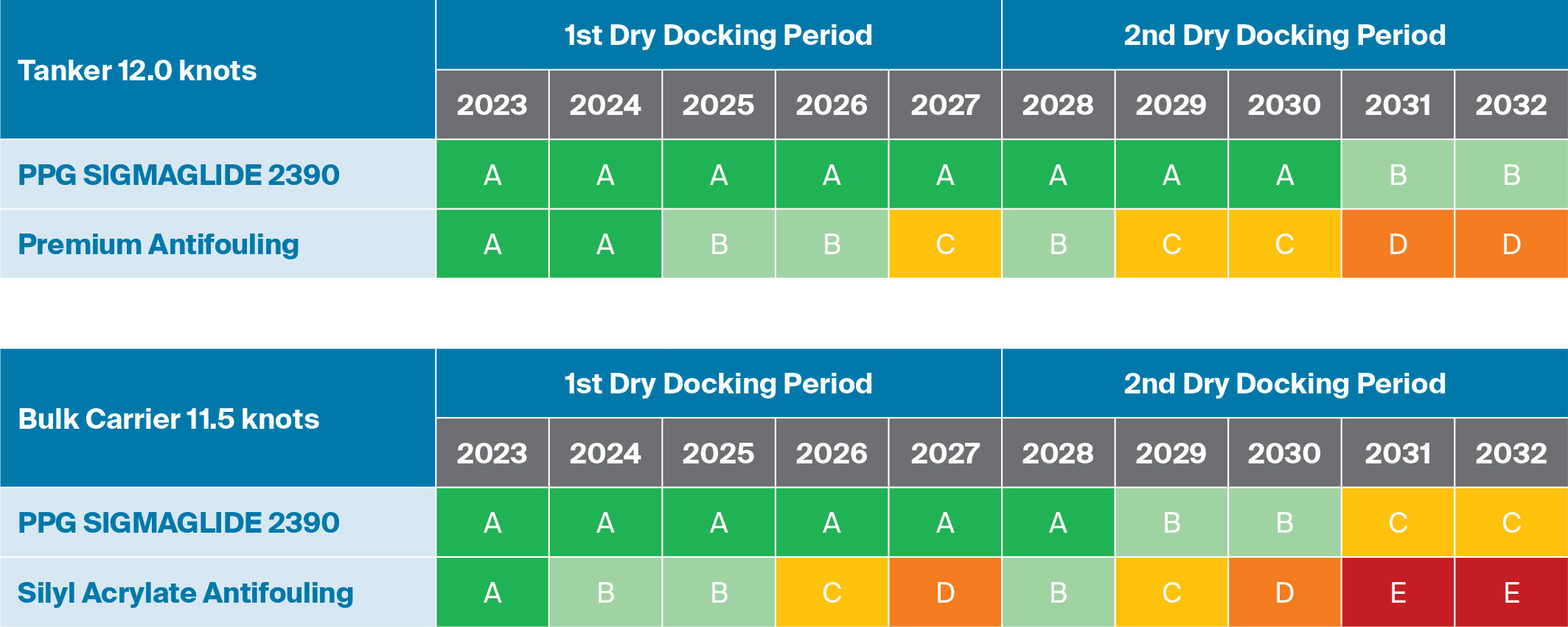 *Actual results dependent on ship type,vessel specific utilization and operation.
*Actual results are subject to the previous hull coating and conditions as specified in a performance guarantee to be issued by PPG.