Solvent-free phenolic epoxy – ultimate protection in extreme conditions
Specially designed to provide ultimate resistance
The PPG SIGMASHIELD 1200 coating is the latest development in reinforced, abrasion- and impact-resistant coatings designed specifically to be fit-for-purpose for ice-going service.
It is the newest generation of the highly successful solvent-free epoxy phenolic technology with proven anticorrosive properties and very high polymer cross-link density to enhance abrasion resistance. The product also boasts enhanced mechanical-, impact- and abrasion resistance outperforming market standard products in both key laboratory tests and in service.
Impact and abrasion resistance
The performance of the PPG SIGMASHIELD 1200 coating is as good – if not better – than existing systems. It is unquestionably superior in terms of gouge resistance ('gouging' being a potential cause of serious damage where intense pressure points are exerted on a ship's hull as it moves through ice). The product's excellent performance has been confirmed by Aker Arctic Technology, a major independent testing institution, which specializes in low-temperature testing at the limits of ice-going conditions.
The PPG SIGMASHIELD 1200 coating has also passed independent extreme low-temperature ice testing developed and conducted by a leading shipyard.
Anticorrosive protection
Under extreme conditions, no coating can provide 100% protection. A degree of damage is inevitable; the focus must be on minimizing this damage and, should the substrate be exposed, reducing subsequent coating damage. In contrast to other competitive systems benchmarked, the PPG SIGMASHIELD 1200 product exhibits excellent performance in combination with cathodic protection, significantly reducing the creep corrosion process from the damaged area.
Ease of application
Under normal conditions, the PPG SIGMASHIELD 1200 coating can be applied by cold, single-feed airless spray equipment, as opposed to the hot, twin-feed system specified and used by the benchmark technology. Available in standard- and low-temperature grades to broaden the application window, the product is suitable both for new-building block stage and dry dock application. As it is 100% solids and solvent free, the coating reduces overall VOC emissions as well as reducing the risk of fire and explosion. The PPG SIGMASHIELD 1200 product also conforms to the latest international environmental and safety standards.
Low friction
The smoothness of the PPG SIGMASHIELD 1200 coating is such that it has a lower frictional coefficient than the market standard. This means a vessel coated with this coating moves through ice with less frictional resistance, reducing fuel and engine load, and consequently saving costs.
Time to save – the ultimate cost saver
The PPG SIGMASHIELD 1200 product has been recognized and approved as an abrasion-resistant, low-friction ice coating by the international classification authorities on the basis of independent examination and testing.
"These values demonstrate the very low friction coefficient for PPG SIGMASHIELD 1200 in ice resulting in higher speed or lower fuel consumption compared to other hull coating systems." Aker arctic technology.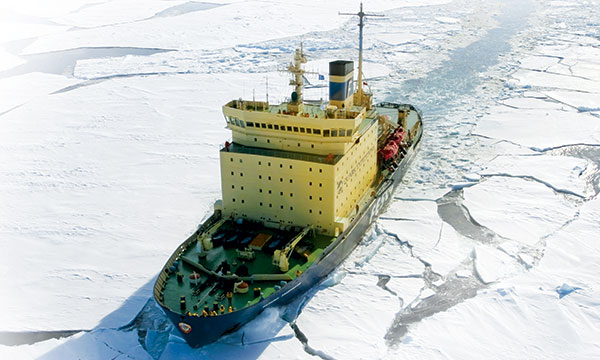 PPG SIGMASHIELD 1200 - The ultimate coating for ice-going vessels
Outstanding impact- and abrasion resistance
Excellent cathodic protection and creep resistance
Standard- and low-temperature versions
Applicable by single- or twin-feed equipment
Recognized by Lloyd's Register as an abrasion-resistant ice coating
Recognized by Lloyd's Register as a low-friction surface coating for ice-breaking ships
Single-coat application
Independent test certification