Prevents CUI with superior protection for extreme temperatures from -320°F (-196°C) up to 1200°F (650°C) and reduces the risk of unexpected shutdowns.
PPG HI-TEMP 1027 HD is our next generation ambient cure, high temperature CUI coating. Excellent hardness and corrosion resistance at ambient temperatures makes it ideal for new construction projects.
Delivers long-lasting CUI protection for carbon steel and stainless steel
Reduces the risk of unexpected shutdown due to CUI problems
Designed to resist extreme cyclic temperatures from -320°F (-196°C) to 1000°F (540°C)
Resistant to dry operating windows up to 1200°F (650°C)
Resistant to thermal shock, cycling and intermittent immersion and boiling water
Delivers improved corrosion and weathering resistance at ambient and high temperatures
Excellent corrosion resistance during long construction windows
Exceptional resistance to wear during modular construction process
Reduces the requirement for touch-up work in the field
Single coat application that is easy to apply and fast to dry
Click below to download our PPG HI-TEMP 1027HD Infographic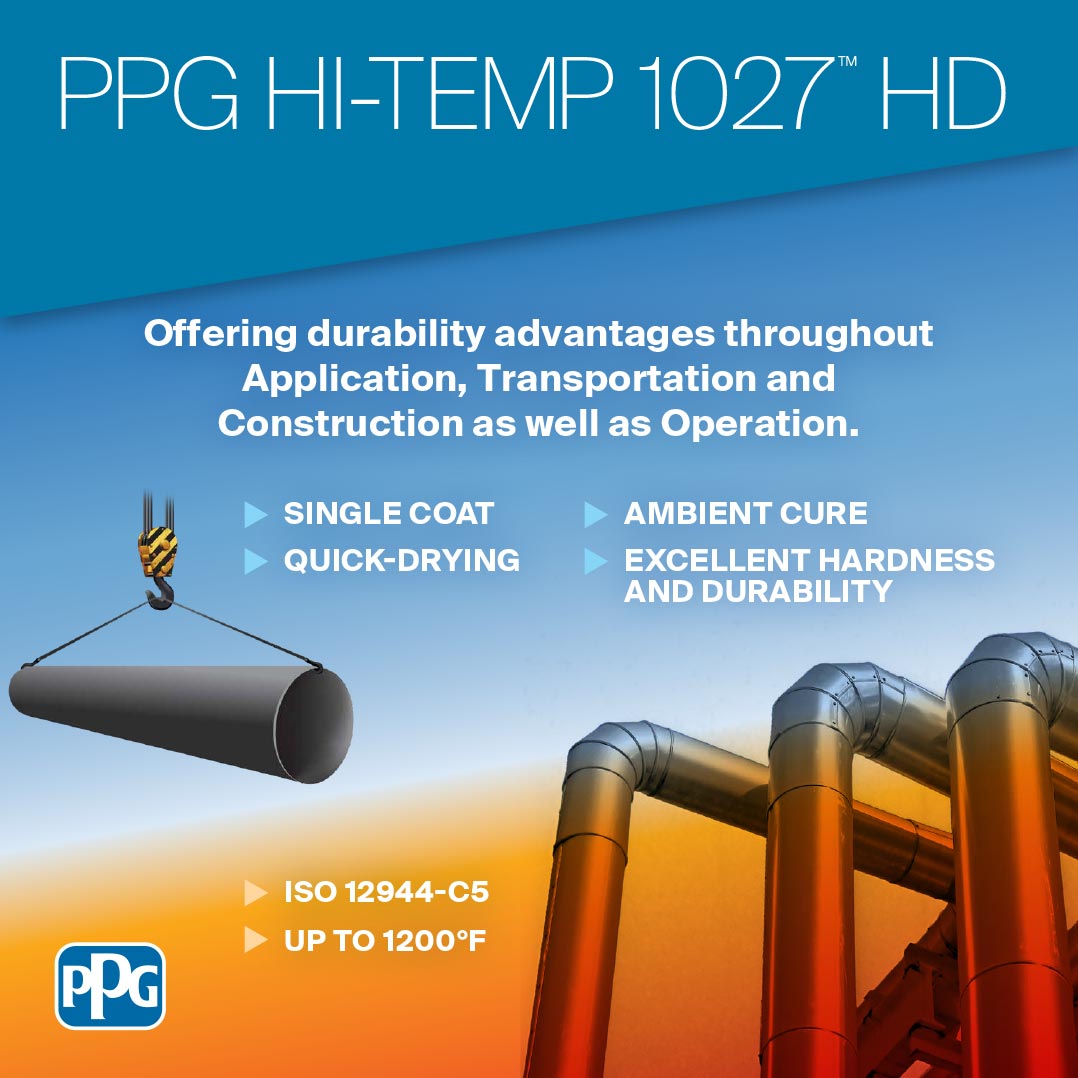 Single coat application, improve project throughput
PPG HI-TEMP 1027 HD is a high-build product. This means it provides 10-12 mils (250-300μm) dry film thickness in one coat vs. two coats of alternative coatings, reducing application time and increasing production efficiency.
With excellent hardness development it will improve your project throughput; reduced handling damage and ready for transport in a day.*
Applicator friendly
PPG HI-TEMP 1027 HD provides a long pot life of 6 hours. The convenient 2:1 mix ratio makes error free mixing easy. The product can be applied with standard spraying equipment.
Durable CUI coating providing wear and scratch resistance during handling, erecting and long-distance shipping
PPG HI-TEMP 1027 HD has been specially formulated to provide exceptional resistance to the wear that can occur when new construction parts are being handled, erected, and transported over long distances, inland and offshore, from the point of manufacture to the final project destination.
PPG HI-TEMP 1027 HD helps prevent damage and the resulting need for touch-up work in the field, saving time and money.
An effective CUI barrier coating for new construction in ambient temperature conditions
During the new construction process, many parts such as piping and vessels are pre-coated. This leads to exposure to corrosive environments in ambient temperatures during long-distance transportation.
PPG HI-TEMP 1027 HD provides excellent corrosion resistance in ambient temperatures throughout long construction windows.
Excellent protection in extreme temperatures
Thermal shock can cause cracking, fracturing and delamination. This allows water to come in contact with the insulated steel and lead to CUI. PPG HI-TEMP 1027 HD is able to withstand severe cyclic temperatures from -196°C (-320°F) to 540°C (1000°F). It also resists dry exposure with intermittent temperature peaks of 650°C (1200°F). It is able to withstand severe cyclic conditions in the cryogenic temperature range through to an elevated temperature, with no visible effect on the coating.
Resistance to boiling water
The PPG HI-TEMP 1027 HD coating is resistant to intermittent immersion in boiling water accumulated within the cladding, reducing the risk of CUI.
Maximum temperature exposure and thermal shock
Withstands cyclic testing with heating up to 650°C (1200°F) and quenching in cold water.
Resistant to cryogenic exposure
Tested for cryogenic exposure by multiple cycles of immersion in liquid nitrogen (-196°C/321°F) and quenching into boiling water (100°C/212°F).
Available in the US and Canada only.
*Drying times are dependent on air and steel temperature, applied film thickness, ventilation and other environmental conditions, see product datasheet for details.