Coating Solutions for EV Battery Plants

PPG Coating Solutions for EV Battery Plants
Experience the peace of mind that comes with knowing the innovation and investment you pour into essential EV batteries mirrors our commitment to safeguarding your facilities. We are dedicated to protecting your team and assets with the same excellence that defines your product manufacturing.
From Floor to Ceiling and Everything in Between
Step into the future with innovative coatings and specialty materials that offer protection against corrosion, high temperatures, and fire for EV battery plants. We help ensure the safety and longevity of your valuable assets while keeping them aesthetically pleasing.
From our electrostatic dissipative solutions, chemical protective flooring, and life-saving structural fire protection to coatings for walls, halls, ceilings, and roofs- we have you covered.
Electric Vehicle Facility Coatings Selector

View Selector
Safety First
Similar to EV batteries, we set high industry standards for fire protection. Dive deeper to learn about our specially crafted intumescent coatings for steel surfaces that offer greater stability, even at soaring temperatures.
Boost Production
Discover how we tackle the daily environmental challenges of the EV battery plant. Our high-temperature-resistant solutions fend off corrosion to minimize downtime and optimize operational efficiency.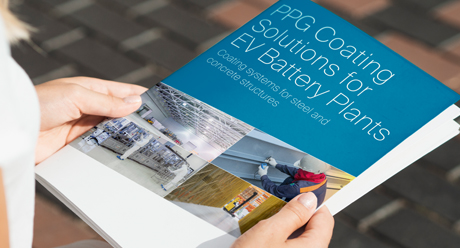 View Brochure