Highly protective technology buys vital time and limits asset damage
PPG STEELGUARD® 703/803 – New range of thin-film intumescent coatings, designed to protect I, H beams and columns (open sections), providing up to 45 minutes' cellulosic fire protection.
Maintaining a smooth and aesthetically pleasing finish, while also protecting steel structures against corrosion and instability in the event of a fire, is incredibly important in the architecture of today's civil buildings.
Our market-leading PPG STEELGUARD 703 and 803 products do just that. The top-of-the-range and easy to apply intumescent coatings have an unparalleled low dry film thickness (DFT) and are dry to touch within 20-30 minutes of application.
Available in Europe only.
So, how do they work?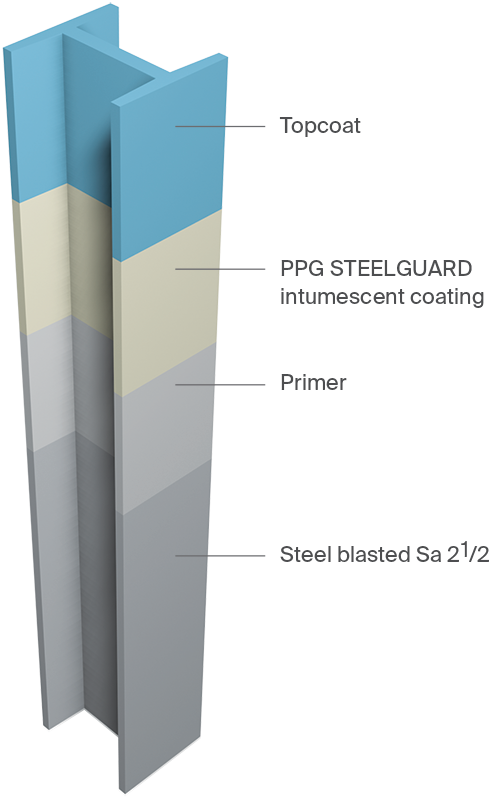 The highly protective coatings expand at extreme temperatures, transforming from an ultra-thin film into a thick, foam-like layer that insulates the steel from cellulosic fire.
This insulation maintains the steel's stability, providing up to 45 minutes of fire protection and buying time for people to escape from a building and firefighters to arrive – potentially saving lives and limiting damage to buildings and assets.
These products can be used on some of the most challenging steel profiles, without compromising on vital fire resistance properties, providing architects with the peace of mind to fully utilize the aesthetic feature of the structural steel within their design.
Benefits of PPG STEELGUARD 703/803:
Up to 45 minutes' fire protection
Covering critical temperatures from 500°C plus
High volume solids
Meets the latest standards (including EN 13381-8:2013) - Tested for open profiles only
Meets ISO12944-2 Up to C4 environment and EAD 350402-00-1106 up to X durability category*
CE-marking
Easy to apply on-site - one-component product
Dry to touch within 20 minutes (PPG STEELGUARD 803), 30 minutes (PPG STEELGUARD 703).
Efficient - can be applied up to 1000 μm (40 mils) DFT (PPG STEELGUARD 803) and up to 1500 μm (60 mils) DFT (PPG STEELGUARD 703) per layer
Backed up with access to our global engineering support network
*for dry internal (C1, Z2) environments no topcoat is required