Waterproofing - Railroad Bridge Deck
PPG BRIDGE DECK MEMBRANE systems last for the life of your structure.
Railroad bridge decks suffer deterioration from the corrosive effects of both natural and man-made agents, including tremendous pounding of high point loads. Our spray-applied elastomeric waterproofing membranes, specifically formulated and highly durable, provide permanent waterproofing protection with high-performance systems that are impervious to deicing chemicals, water, ballast, stray current and more.
PPG isn't just about coatings — we are a solutions provider. We partner with engineers to understand their specific challenges and customize a system that meets their needs. Our patented technology and unique product features allow us to find cost-effective solutions to meet design and construction best practices.

PPG BRIDGE DECK MEMBRANE cold liquid-applied waterproofing technology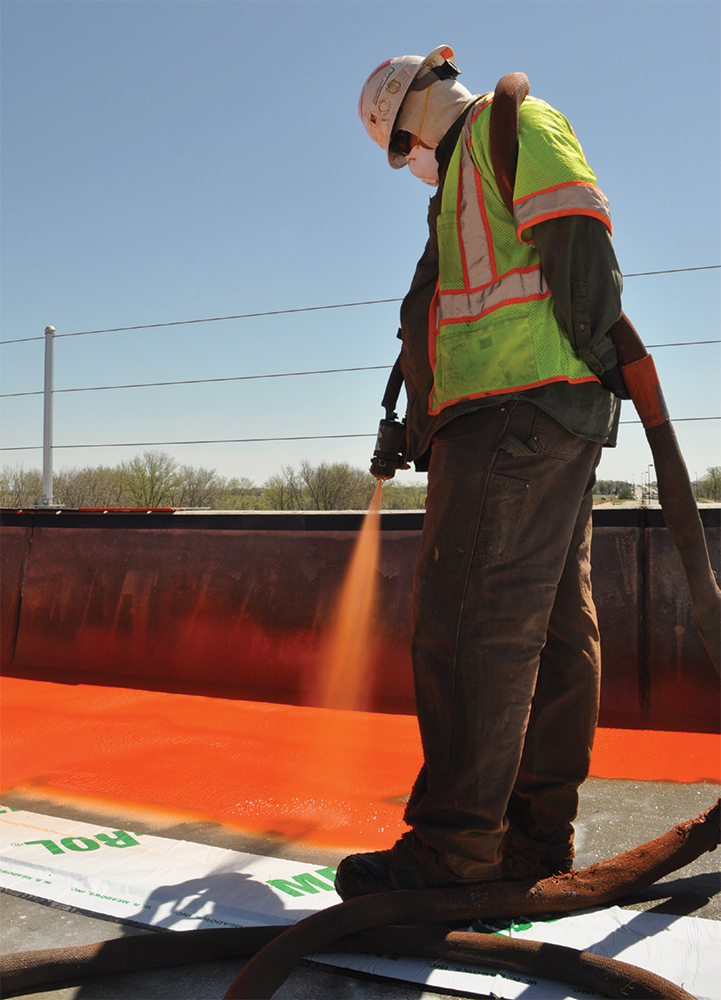 The backbone of our waterproofing systems, PPG BRIDGE DECK MEMBRANE is a high-strength, rapid setting, 100% solids, two component polymer product that creates a seamless waterproofing membrane. This polyurea technology is designed for protection against water, salts, chemicals, and other corrosive effects on steel and/or concrete bridges and elevated deck structures.
Flexible
Can be applied in temperatures down to -20°F (-29°C) with fast cure and quick return-to-service.
Certified
Passes ASTM C1305 for 1/8" crack bridging at 80 mils and meets AREMA Chapter 8, Part 29 for Cold Liquid-Applied Elastomeric Membranes.
Tolerant
Can be sprayed over irregular surfaces, including rough concrete, and maintain consistent thickness.
Adaptive
Can be sprayed on vertical and overhead surfaces and easily waterproof bolt heads, penetrations, and complex angles.