PPG RESTORA-PIPE™ Pipe Restoration System
PPG RESTORA-PIPE Pipe Restoration system revolutionizes trenchless pipe rehabilitation. Featuring a patented robotic PPG SMART TETHER™ that maneuvers efficiently throughout complex pipe geometries, the PPG RESTORA-PIPE system can traverse multiple pipe fittings and provides a solution where digging or other trenchless methods are prohibitive. The proven system features a fast-drying polymeric coating with excellent corrosion resistance that meets the requirements of ANSI 61.
Features
Suitable for 24" or larger diameter piping
Self-propelled robotic system
Freely circumvents multiple 90° bends, inclined geometries and vertical pipes
Deploys cleaning, lining & inspection systems
Monitors & controls ambient conditions
Accesses 500 feet from point of entry
Leverages ANSI-61 certified PPG RESTORA-PIPE Polymeric Coating
Benefits
Provides solution for complex pipe rehabilitation projects with multiple bends
Reduces friction and capstan effect during lining for a smooth, even coating
Fewer entry points means less disruption
Faster return-to-service and less costly than traditional pipe rehabilitation methods
Suitable for work in all seasons
Creates a seamless, BPA-free pipe-within-a-pipe that extends service time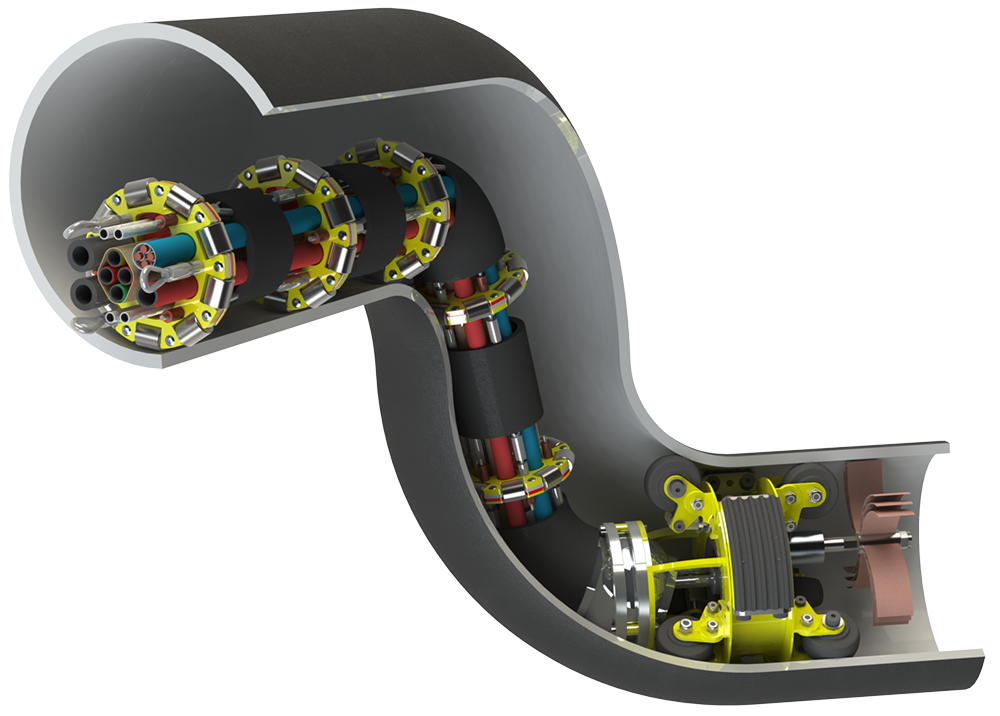 Smart Tether
Inspects and lines piping via a customizable centralizer head
Monitors ambient conditions of the pipe and coating, signaling any necessary adjustments
Maps pipe geometry through 3D imaging
GPS enabled
Leverages CCTV to provide real-time video
Records quality data for final inspection
Restora-Pipe is a trademark of PPG Industries Ohio, Inc.